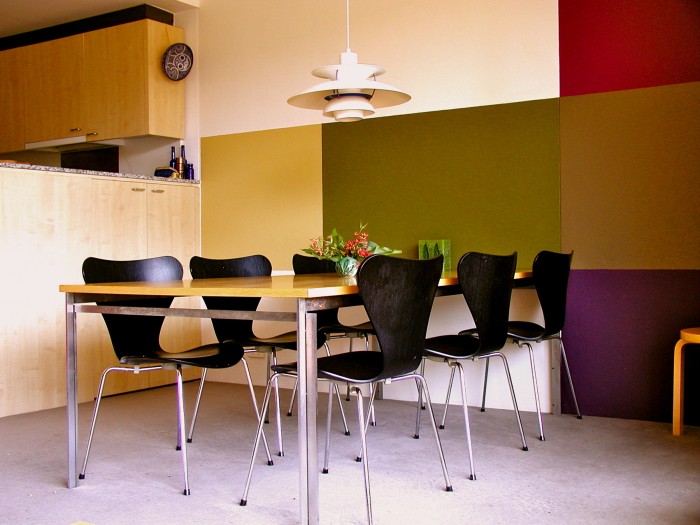 Apartment Interior Design, Furniture Selection & Layouts
We selected all furnishings and fittings and located the Poul Kjærholm, Danish-made PK 51 ash-veneered dining table with one short end against a blank wall.
A multi-hued grid mural was then designed with the datum level of the table used as a benchmark. This had the effect of further 'docking' the table into position. The second level of the grid aligns with the upper kitchen cabinets and takes its instigating colour from these cabinets.
An original Louis Poulsen PH 5 pendant light further defines the dining area, which also features Arne Jacobsen Series 7 dining chairs in black lacquered ash veneer adding punctuation to the table setting.
Outcome : A comfortable, uniquely customised inner-city apartment was fashioned without major works being undertaken. While the design aspects employed were largely cosmetic, they were able to lever a much stronger sense of personality for the interior by virtue of careful furnishing selections & layouts and inventive, non-standard colour schemes.
Moore Park Gardens Apartment Sydney
Categories →
Art + Graphics + Feng Shui
Interiors
Residential-architect